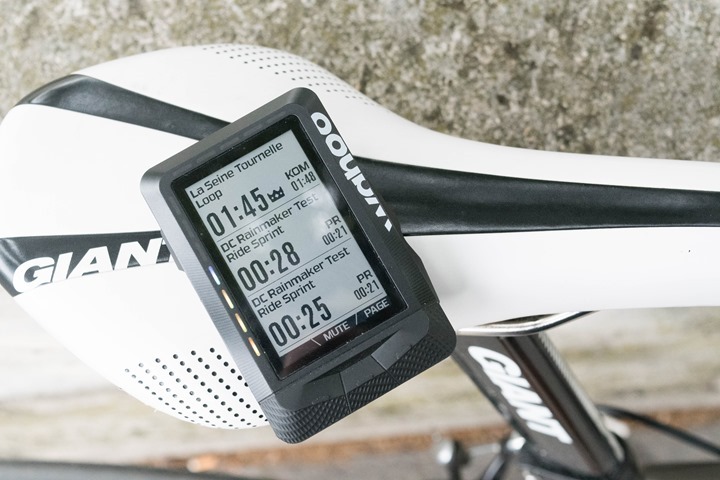 Today Wahoo became the third company to introduce Strava Live Segment support on devices.  Live Segments means that you can get Strava KOM or PR information during your ride on favorite segments, directly on your Wahoo ELEMNT.  Garmin was the first to introduce this last summer, and then Mio did so on their Cyclo units this past spring.
The functionality goes live today, and I gave it a quick whirl this afternoon and came away impressed – mostly in comparing the differences between how Wahoo implemented it and how Garmin has implemented it.  Let's get started and walk through it all.
GETTING IT SETUP:
The ELEMNT acts in many ways like other Strava Live Segment enabled devices in terms of how the underlying setup of the Strava Segments works behind the scenes.  First is that you need a Strava Premium account (that's the paid membership).  Then, you need to ensure you've got your Strava account linked up via the Wahoo Fitness unit using the ELEMNT companion app:
Then if you haven't done so already, you'll want to get your ELEMNT device and ELEMNT phone mobile app all updated with the latest firmware and software.  Note that it's possible there's some minor delay between when this post publishes and when those things show up today on various servers.  So if they're not there yet…consider eating a cookie and trying again later.
Finally, once all those are done, you'll want to ensure the Strava Segments are synced to your ELEMNT.  It should do this automagically, but it's always good to check.  You can do this on the device itself by hitting the ELEMNT's page button until you get to the Strava page.  If you don't see what you're looking for, hit the 'SYNC' button again.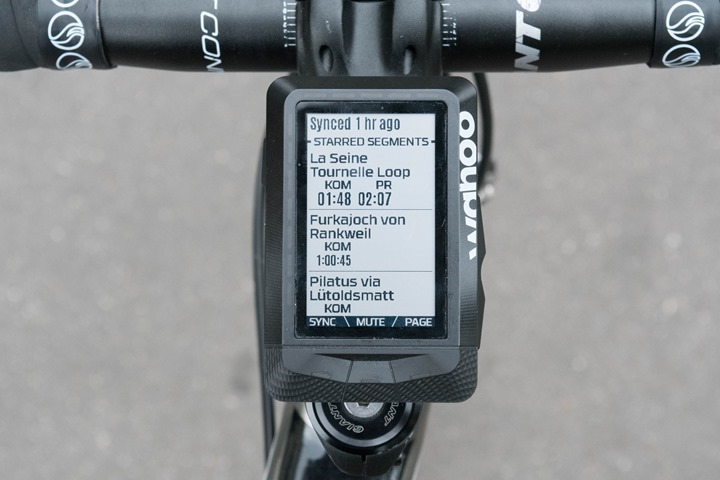 This will show you the most recent sync time, and a list of sync'd segments.  Segments that are always sync'd include your starred segments, which are the ones that you've manually starred on Strava as favorites: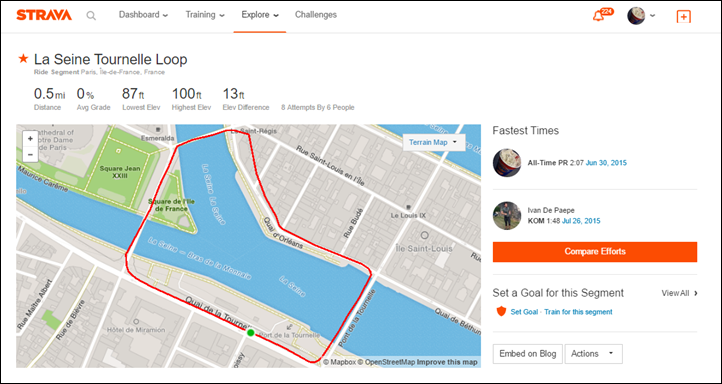 You can check this list by hitting Dashboard > My Segments, which shows you a list of Starred Segments (plus a separate list of segments you've created).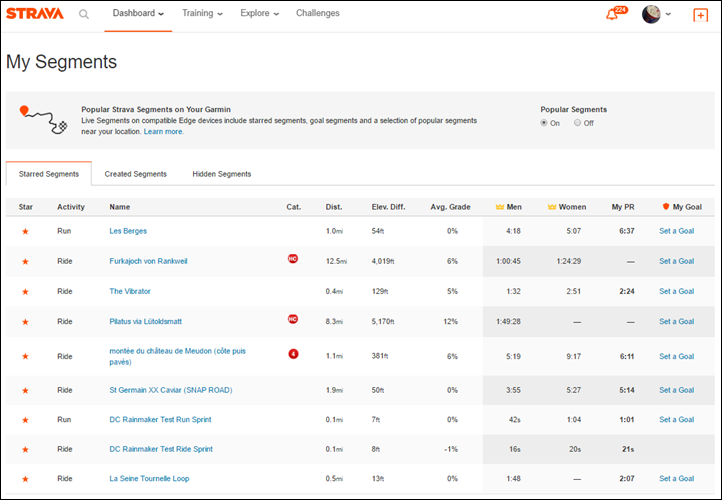 In addition to starred segments, the unit will automatically pull segments from Strava based on the area you're riding in.  Thus it finds some of the more popular segments and adds those too.  It checks moon phases, tidal patterns, ice cream stock levels, and other voodoo magic to determine the most popular segments.  Somehow it seems to mostly work. (Update: In the final released version, Wahoo pulled usage of the Strava API for popular segments population, hence, for now it'll just pull starred segments.)
Note that the unit is not actually displaying segment data in real-time from Strava while riding.  Rather, this is only pre/post-ride syncing.  So in theory someone could beat you just before you, and you'd never know it till later.
With all that set, it's time to head out and give it a whirl.
HOW IT WORKS ON THE ROAD:
Now that we've got segments loaded it's time to take it outside and give it a whirl on the road.
As you approach or near a segment you'll receive a count-down notification in terms of distance (lower left corner).  This shows up on any pages you're on, so you don't need to be on the Strava Segments page to see it.  In the lower right corner it'll alternate back and forth between showing your PR for the segment, and the segment's name: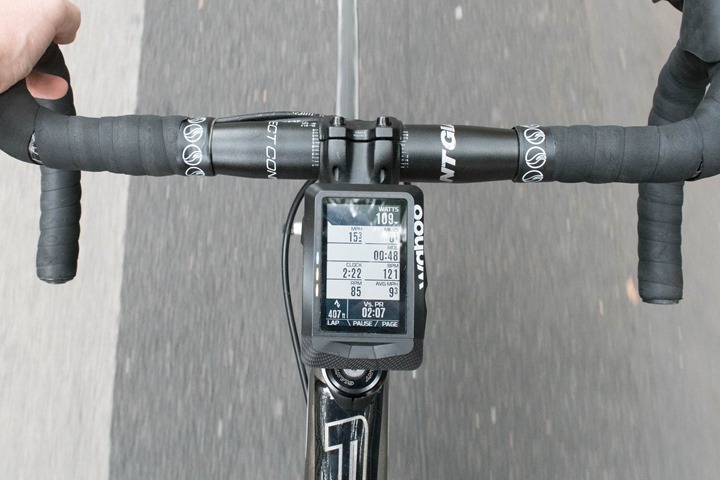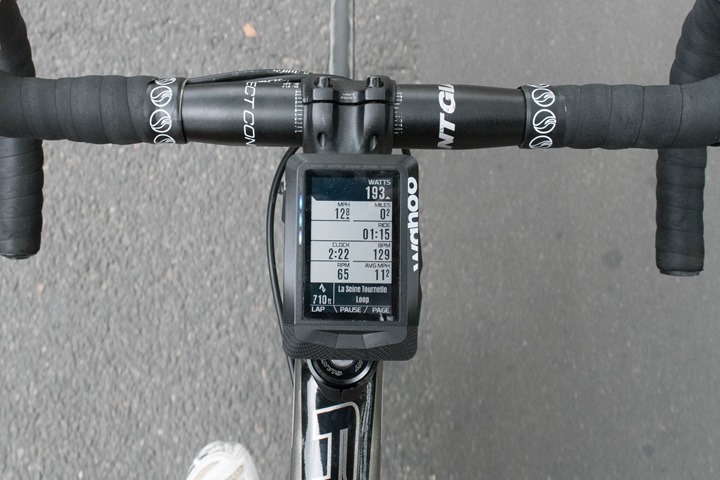 Also of note is that you can go to the Strava Segments page on the ELEMNT at any time to find random segments that are near you, which show up at the bottom of the list: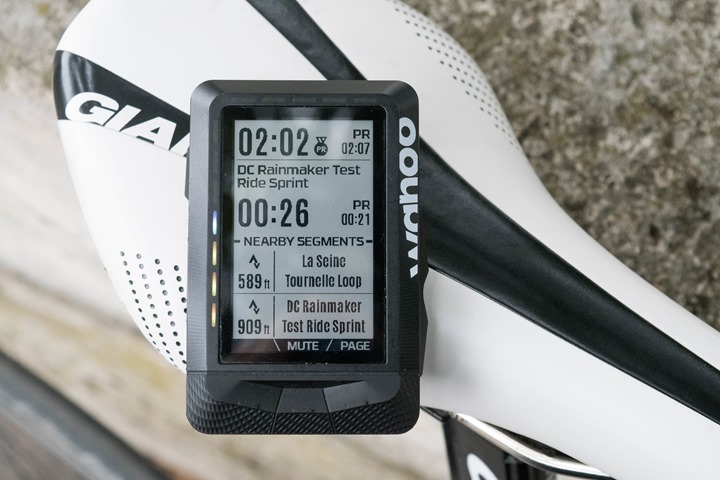 As we hit the start of the Segment, the count-down hits zero and gives you a big fat 'GO' shout-out.  Within the ELEMNT companion app you can specify whether to automatically change your page to the Strava Segments page as you start the segment.  In my case, I left it on the defaults.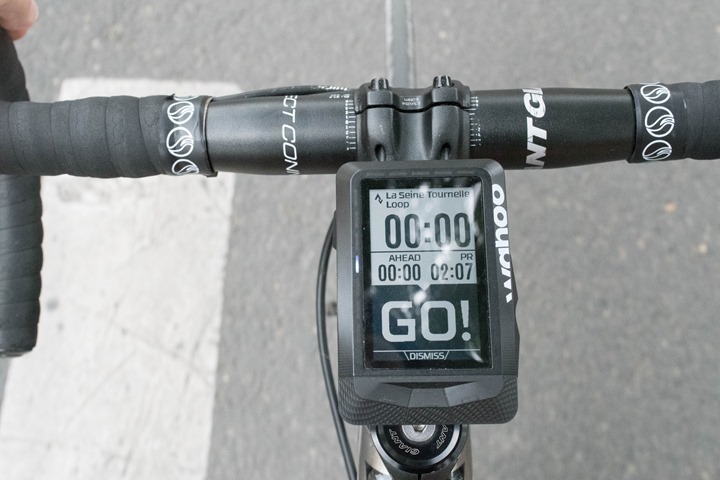 Then it immediately switches to giving you live status updates on your progress on the segment.  You'll see that it lists either against the KOM holder, or against your PR.  You can tap the 'VS' button at the bottom to change who you're competing against (and change it back and forth as many times as you like):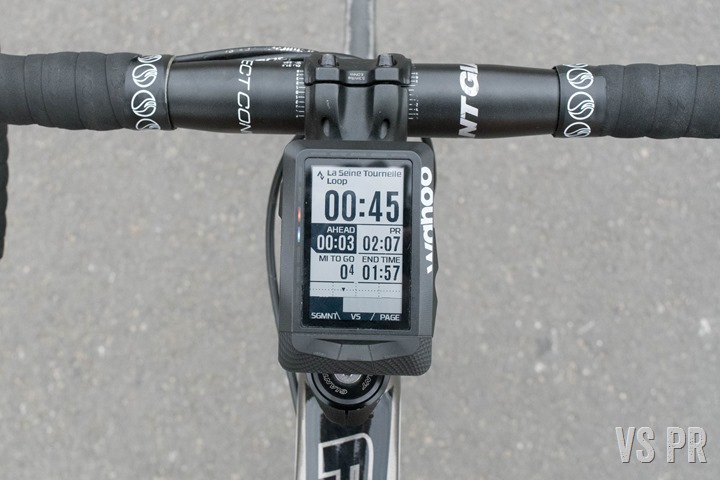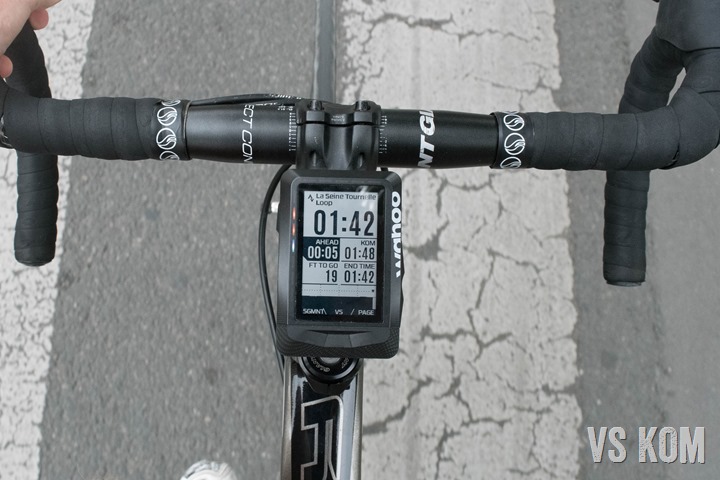 It'll continue to provide time ahead/behind throughout the segment.  You'll notice along the bottom is the elevation plot of the segment.  In this case, my segments were mostly flat.  The LED's along the side will indicate how far ahead/behind you are against the leader/PR.
Finally, as you finish the segment it'll give you a finisher banner with your provisional placement and time.  If you're good, you'll hit a PR: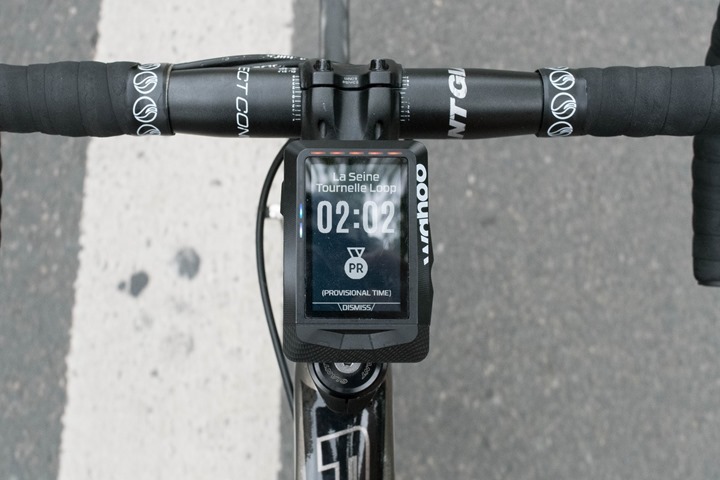 But if you're really awesome (*cough, like me today*), you'll manage to nail a KOM…even while shooting photos with a DSLR and avoiding tourists taking selfies with iPads standing in the bike lane: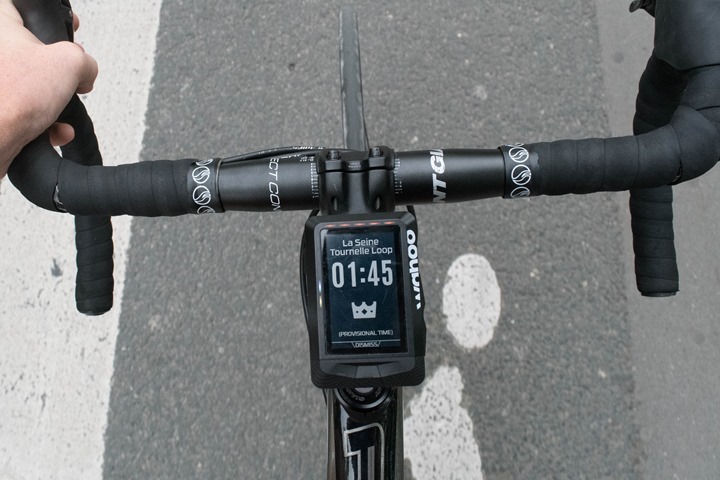 What's even cooler than me nailing a KOM though, is that you can compete on multiple segments at the same time.  My test loop includes two different segments, one of which overlaps start/finish points inside the other.  On a Garmin device, this doesn't work.  But on the ELEMNT you can actually see both segments live and switch between them and race them as you see fit.  Simply tap that 'SGMNT' button in the lower left to swap between them, just like changing pages.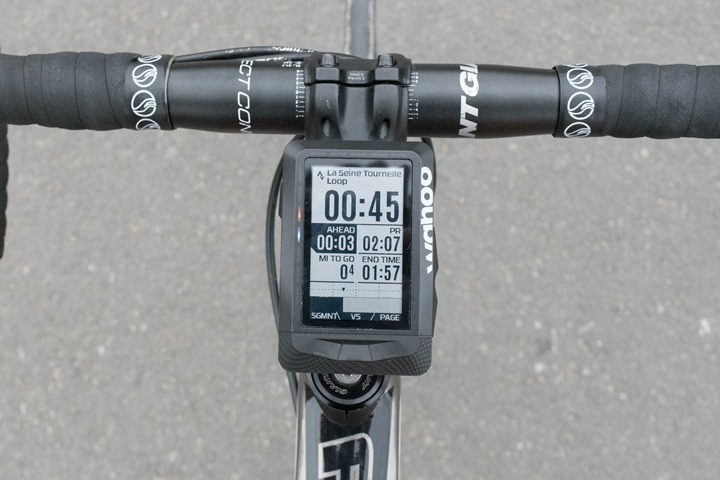 Remember that Wahoo is only showing starred segments, so you don't (in theory) have to worry about having 98 overlapping segments of the same climb showing up at once.
One interesting note is that unlike the Garmin Edge units, you can route on both a course and complete Live Segments at the same time, whereas for Garmin it's one or the other, so that's definitely pretty cool for those still upset about that on Garmin devices (a number of you). You can see here it's giving me directions on the route I've loaded, while also showing me the Strava Segment info up top.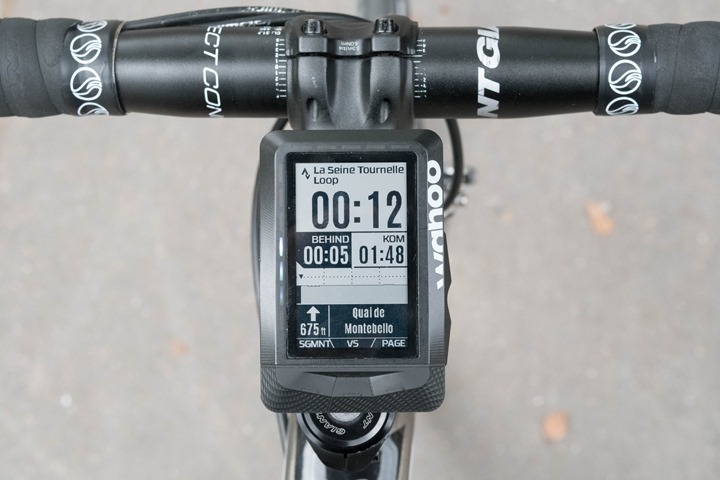 Even better than all that though is that you can go to the Strava Segments page at any time and see a listing of segments you've completed during the ride, even if you've done the same segment over and over again.  It'll also show you any PR's or KOM's on that too.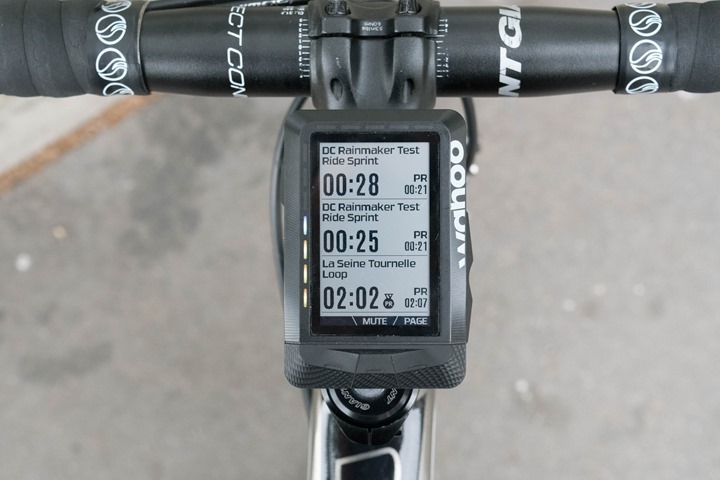 Overall – despite Wahoo not having the pretty color graphics of the Garmin Edge series within the Strava Live Segments, it actually executes on the technical side better in most areas.  The functionality is more usable in terms of overlapping segments and using segments during courses.  The singular downside however is that unlike Garmin, Wahoo doesn't show people you follow (friends) on Strava as a competitor, whereas Garmin does.  In my case, I don't actually follow that many people on Strava, so it's not a huge deal.  But if you've got a close-knit group of riding buddies, then that's definitely a Debbie-downer moment to not be able to seek out your friend's PR.  Though, Wahoo says this is coming soon.
Still, the remainder of the functionality works well and continues to make the ELEMNT more and more competitive each month within the GPS cycling computer landscape.  And competition is definitely a good thing for consumers in this area.
Link to Original Article: dcrainmaker.com
Stay up to date, follow us on: