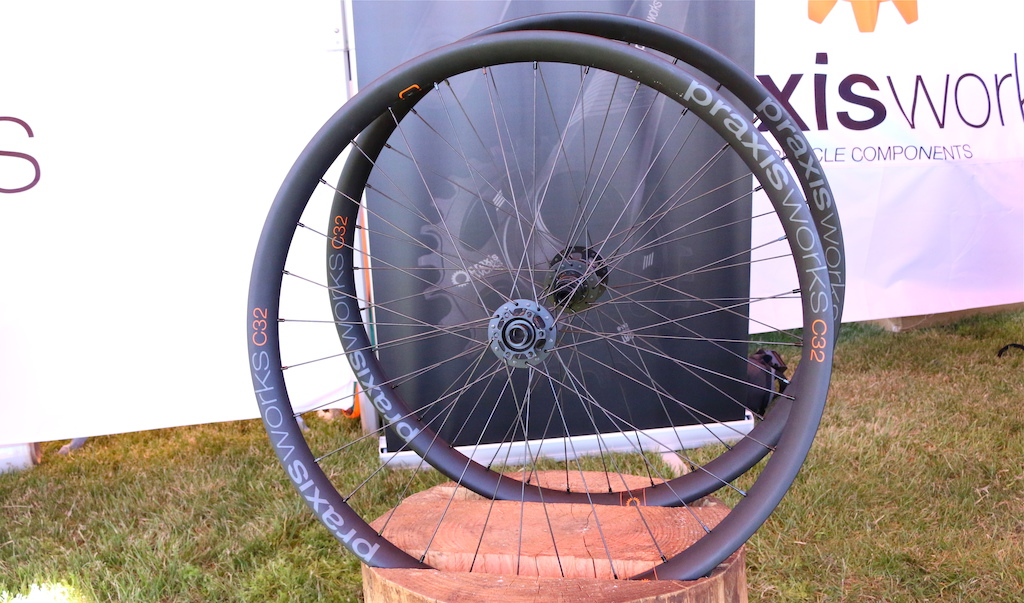 C32 Carbon Wheels
Better known for their bottom bracket solutions and aluminum (and now carbon) cranks, Praxis is entering the wheel world with both carbon and aluminum models. The former is their $1,799 USD C32 wheelset that's been in the works for a few years now, and one that Praxis has put together with maintenance and ease of use in mind. That means that it's assembled with standard J-bend spokes (four extra included), external nipples, comes pre-taped and is built with a set of Praxis' own hubs that employ DT Swiss' internals for simple maintenance and compatibility with all axles and drivers. 
C32 Details:
• Intended use: trail / all-mountain 
• Carbon fiber rim 
• Internal rim width: 32mm
• 3mm offset assymetrical rim 
• Hookless bead w/ bead lock shape 
• J-bend spokes, external nipples 
• Weight: 27.5'' - 1,628g, 29'' - 1,726g 
• Availability: late June 
• MSRP: $1,799 USD
Praxis is using their own rim carbon design that you won't find in anyone else's catalog, and unlike some companies who name their wheels after the rim's external width, the C32 takes their name from their internal width. This matters because it's a rim's internal width that plays a big role in determining a tire's shape, and Praxis' Adam Haverstock says that 32mm is ideal for the 2.35'' to 2.5'' wide rubber that's so common these days. The rim's subdued appearance hides some neat features, including 3mm of built-in offset and a flat section of carbon around the valve hole that, according to Haverstock, helps to keep the valve at a 90-degree angle relative to the rim. 

The rim bed requires a wrap of tubeless tape to seal because the nipple holes are drilled right through, but this means that it should be easy to swap out a damaged nipple when required. And just like most carbon rims out there, the C32 has a hookless bead design, as well as a bead lock shape to the bed and sidewall that should help to increase strength and make it quick to seal up tires. 

Praxis won't sell bare C32 rims - they want to own the build process themselves - but they do plan on offering a no questions asked, $300 USD crash replacement for non-warranty issues. 





Praxis wanted a set of reliable and ultra-compatible hubs at the center of their C32 wheelset, but they also were looking for something different than just an off the shelf hubset. That lead them to design their own hub shells but drop in internals from DT Swiss. They went with the company's 36-tooth Star Ratchet system rather than the higher tooth option because it's proven to be more reliable, although riders can install their own 54-tooth Star Ratchet kit if they want quicker engagement. There are both Shimano and SRAM compatible driver options, of course. 

Praxis has done something unusual up front: radial lacing on the non-disc side. Haverstock says that testing revealed that the radial lacing on one side resulted in a more torsionally rigid package, but that hub manufacturers generally don't want to go down this road due to the extra stress it puts on the hub flange. Good thing Praxis has their own hub shells - the flange that sees the outboard, radial lacing is thicker and stronger than you'd see on a standard hub.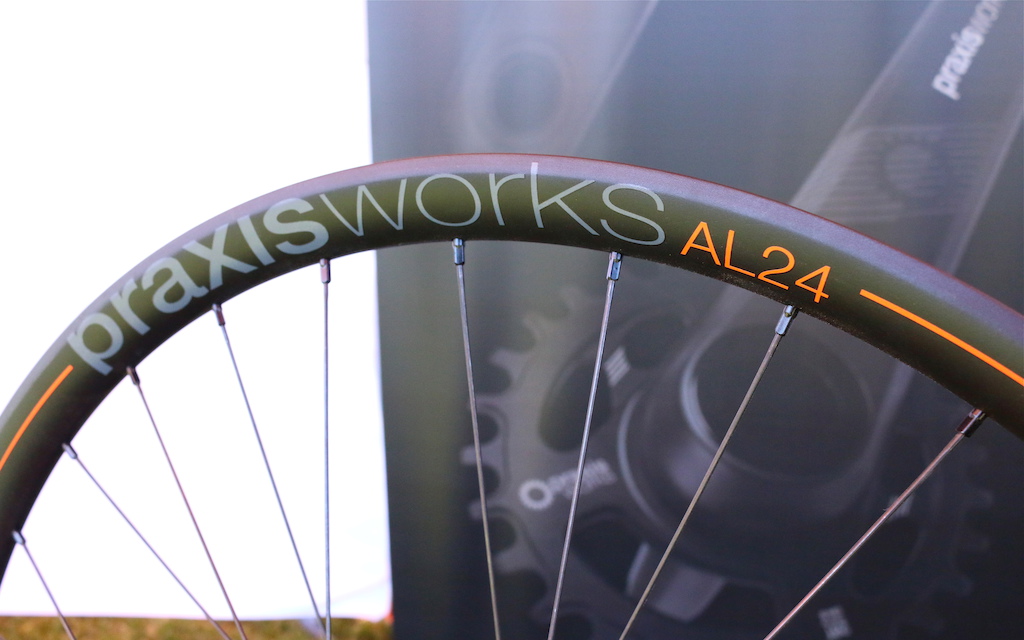 Want to spend less on a set of wheels and looking for something a bit better suited to cross-country rubber? The $699 USD AL24 wheelset probably makes more sense than its pricier, non-metallic brother shown above. As their name and price probably already had you assuming, the AL24 wheelset features an aluminum rim with a 24mm internal width that's best suited for more traditional, cross-country and trail tires. The rim itself is asymmetrical, just like the C32 rim, and is assembled with thirty-two J-bend spokes and a set of DT Swiss 370 hubs. The driver employs three pawls rather than DT Swiss' famous Star Ratchet system, but customers can actually upgrade to the latter by purchasing a new drive-ring and Star Ratchet kit. 


AL24 Details:
• Intended use: cross-country / trail 
• Aluminum rim 
• Internal rim width: 24mm 
• Assymetrical rim offset 
• DT Swiss hubs 370 hubs
• Weight: 29'' - 1,798g 
• MSRP: $699 USD
Link to Original Article: pinkbike.com
Stay up to date, follow us on: