Praxis first made their mark in the mountain bike world with their line of bottom brackets, which were soon followed up by chainrings and cranksets. Wheels were the next logical step, and last spring Praxis debuted the carbon fiber C32 wheelset. 

Intended for trail and all-mountain use, the C32 wheels are built up using an asymmetric carbon rim that measures 38mm externally and 32mm internally. DT Swiss provides the hub, with the time-tested 350 model laced into a 32-spoke, two-cross pattern on the Boost version, while the non-Boost version uses Praxis' own hub shell design with DT Swiss internals.
With a retail price of $1799 USD (SGD 2,800) the C32 wheels aren't cheap, but they're also far from the most expensive options on the market. Each wheelset is backed with a two-year warranty against manufacturing defects, along with a two-year crash replacement program where Praxis will lace up the original hub to a new rim for $300.
Praxis C32 Details
• Intended use: trail / all-mountain
• Carbon rims / DT Swiss 350 hubs
• 29" and 27.5" options
• Boost and non-Boost spacing available
• Weight (29" Boost): 1650 grams; front: 770g, rear: 880g.
• MSRP: SGD 2,800
• Buy Now!
The C32 rims are laced to DT Swiss 350 hubs.
A 32mm inner width helps make it possible to run lower tire pressures without losing sidewall support.
Construction

Wide rims have returned to fashion over the last few years, although advances in carbon and aluminum technology mean that they're not nearly as heavy as those DoubleWides that you used to mount up with 3.0" Gazzaloddis. Internal widths of between 27-35mm seem to be where things are settling, and the C32 wheels' 32mm inner width puts them comfortably within that range. That dimension should allow them to work well with tires 2.35" wide and larger – if you prefer skinnier tires, a narrower rim would be a better choice to avoid having the casing become overly squared-off. 

The carbon rims are asymmetrical, with the spoke holes offset in order to allow for more even spoke tension between the drive and non-drive side of the wheel. Traditional J-bend spokes are used to lace the wheels up in a two-cross pattern, and the spoke nipples are where they should be – outside of the rim for easy truing and tension adjustments. The rim is hookless, with a channel molded into each side of the rim bed that's designed to help lock the bead into place. 

Rather than tackling the feat of creating their own hub internals from scratch, Praxis chose to lace the C32 wheels to DT Swiss' 350 hubs, which use the company's proven ratchet drive system. Our test wheelset came with an 18-tooth ratchet drive ring, but the non-Boost version is slightly different, relying on Praxis' own hub shell that houses DT Swiss internals, including a 36-tooth ratchet drive.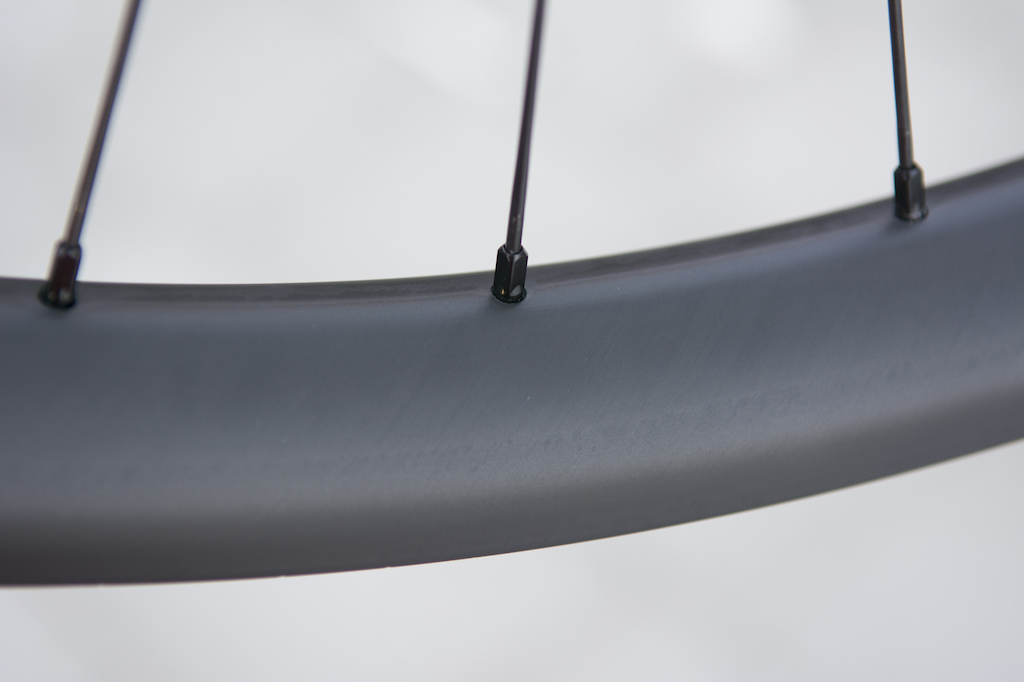 External nipples mean that there's no need to un-mount a tire when it's time to true them.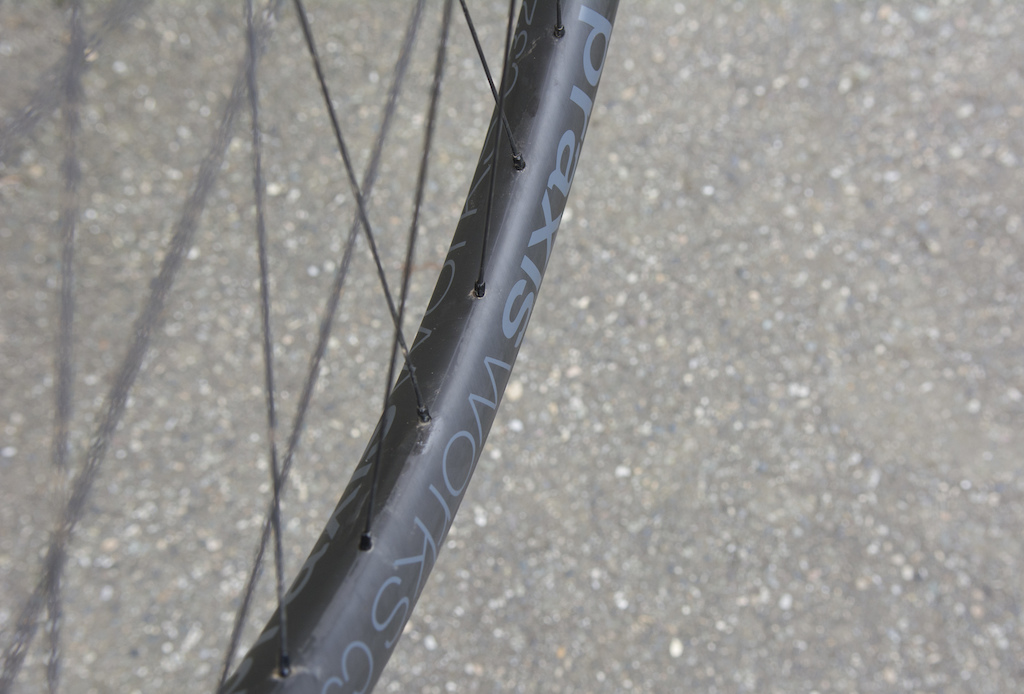 The asymmetric rim profile allows for more even spoke tension.
Set Up

For the most part, getting the C32 wheels set up tubeless was hassle free, although I did have a couple of tires, typically ones with thicker casings, that were a little reluctant to pop out of the rim's center channel and move up against the sidewall where they belonged. In those cases, a little extra elbow grease and some prodding with a tire lever were required to get everything situated, but it was only a minor inconvenience, and I still never needed to resort to using an air compressor. More than likely, removing the stock rim tape and adding a couple laps of Gorilla tape would have helped solve this by reducing the height of that inner channel. 

My tire pressures varied slightly depending on what tires I was running, but for the most part, they hovered between 20-21psi in the front and 22-23 psi in the back. That was high enough to avoid any unwanted tire roll, but still soft enough to maintain traction in the slippery conditions that prevailed during testing. 


Performance

These wheels haven't had an easy life – rain and mud have been a part of nearly every single ride they've been on, and I haven't been shy about smacking them into corners and plowing through roots and rocks. The good news? They've taken the exposure to the elements and all those hits like a champ. The bearings are still spinning smoothly and, other than a few tiny scratches the rims, are still as good as new, even after several hits that I'm sure would have dented an aluminum rim. The rear wheel has had a couple trips to the truing stand to get rid of a little wobble caused by my on-trail miscalculations, but each time it only took a few minutes to get it rolling straight again. 

I'm not one to get hung up on weight, and for me, durability takes a higher precedence than gram counting, but I was very impressed by how light the C32 wheels felt out on the trail. Their handling was crisp and precise without going overboard – there wasn't any harshness or unwanted feedback no matter how rough the trail, but they were still stiff and responsive, exactly how you'd hope a high-end carbon wheelset would be.

My one gripe is that after spending time on several wheelsets with very quick engaging freehub mechanisms, the 20-degrees between engagement points of the DT 350 hubs proved a little underwhelming. At this price I would have liked to see the 36- or even 54-tooth ratchet rings as the stock configuration. 
Pinkbike's Take